Last Updated on 30 September 2014
By

WA
What You Need to Know About the Umbrella Revolution ?
Tens of thousands of protesters blockaded the streets of Hong Kong over the weekend to fight for democracy, shielding themselves from tear gas and pepper spray with surgical masks, goggles and umbrellas.
What they are fighting for
Hong Kong was a British colony until 1997, when the UK handed it back to China. Under the principle of "one country, two systems," Hong Kong was afforded economic and political freedoms outside the traditional socialist rule of the People's Republic of China. This system is supposed to remain in place until 2047, yet what is to happen after that time has never been officially stated.
How the confrontation escalated
The rally began with a peaceful sit-in by university students outside Hong Kong's city government headquarters in the financial district, called Central, following the announcement of Beijing's controversial plan for the 2017 election.
Student protesters occupy streets surrounding the government headquarters in Hong Kong, Sunday evening, Sept. 28, 2014.
Image: AP Images/Associated Press
A movement called Occupy Central with Love and Peace had initially scheduled a nonviolent "civil disobedience" protest for Oct. 1, a national holiday to celebrate the Republic of China. But it took to the streets on Saturday to join forces with student protesters.
After 60 people were arrested outside the government compound and many were doused with pepper spray, Occupy Central called for protesters to shut down the financial district Sunday in retaliation, Reuters reported.
What is Occupy Central?
In January last year, Benny Tai, an associate professor at the University of Hong Kong, called for an act of "civil disobedience" if the plan for "universal suffrage" — one person, one vote — did not go ahead as promised.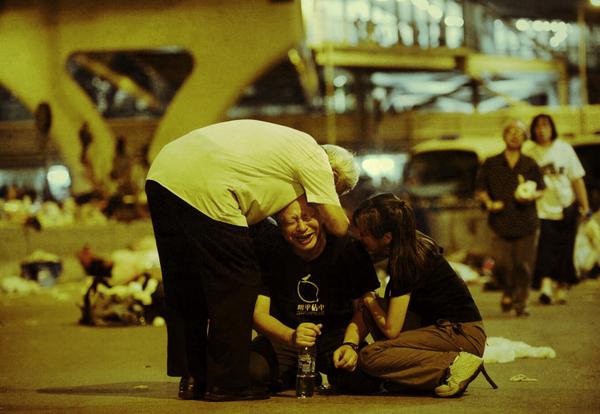 This started the movement known as Occupy Central with Love and Peace, in which residents of Hong Kong were urged to participate in peaceful protests to fight for the granting of full democracyby Beijing.
What happens next
As the sun rose on Monday, protesters remained on the streets, which caused chaos for early morning commuters and businesses in the financial district, the Straits Times reported.
Major roads were congested and public transportation systems were interrupted, with 200 bus routes suspended or diverted, as many frustrated residents tried to make their way to work. The stock exchange said it would continue to operate as normal, despite the ongoing protests, while banks and retail stores remained closed.
The streets of Hong Kong last night as protesters spilled onto the major roads.
Image: AP Images/Associated Press
In a statement, police urged the public to remain calm and move off the main roads.