Last Updated on 05 April 2016
By

WA
The Panama Papers, a huge trove of documents that reveal how a Central American law firm allegedly set up shell companies to help heads of state and international criminals conceal their riches, has already prodded regulators into action, rattled sitting politicians and spurred international calls for banking transparency.
Here's a look at what they are and where the revelations may lead.
What's in the documents?
The 11.5 million documents -- which take up 2.6 terabytes of space on a hard drive, more than the cache of State Department cables uncovered by WikiLeaks in 2010 -- contain 40 years of records from Mossack Fonseca, a niche law firm that represents wealthy business clients and has 40 offices around the globe, according to the International Consortium of Investigative Journalists, which led reporting on the leaked documents.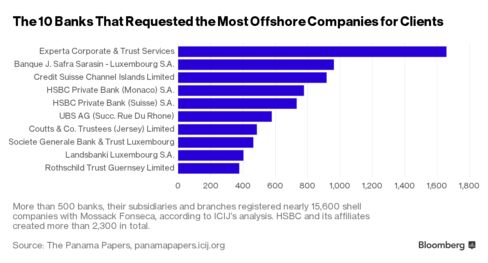 Beyond the individuals named, some of the world's most powerful banks, including HSBC Holdings Plc, UBS Group AG and Credit Suisse Group AG, were also identified as using Mossack Fonseca to help clients render their assets untraceable. The banks, in comments, denied any wrongdoing.
The ICIJ said the documents also show more corruption within the scandal-plagued international soccer federation FIFA.
What's a shell company?
A shell company is an entity without active business that exists as a vehicle for another company's operations. While companies that shield owners' identities can be used legally, they can also be tools for hiding assets, laundering funds or evading taxes. The U.S., among other countries, requires banks doing business in the country to perform certain levels of due diligence on their clients to understand who the beneficial owners of such structures may be.
Where did the leak come from?
The documents first came to light via an anonymous, encrypted e-mail to the Suddeutsche Zeitung newspaper in Munich. The newspaper, which had written about German authorities raiding the headquarters of Commerzbank AG in February 2015 on suspicion that the bank helped clients avoid taxes, received the tip from a source who claimed that the raid was just a tiny piece of a much more explosive scandal. 
The tipster claimed to have access to the inner workings of Mossack Fonseca, which specialized in forming shell companies used to hide billions of dollars in assets and had clients that included current and former leaders from Argentina, Georgia, Iraq, Jordan, Qatar, Saudi Arabia, Sudan, the United Arab Emirates and Ukraine, as well as celebrities such as soccer star Lionel Messi.
The German newspaper enlisted help from the ICIJ, which in recent years has uncovered major stories about secret offshore banks and international tax avoidance schemes. 
The ICIJ and Suddeutsche Zeitung had collaborated in 2014 on stories about secret tax deals negotiated by the Luxembourg government. Gerard Ryle, director of the ICIJ, said that once he and other editors realized that the Panama documents would be of worldwide interest, the organization put together a team of 400 journalists in 80 countries to follow the trail.
How did investigators authenticate the documents? 
Once the tipster came forward, ICIJ and editors at the Zeitung newspaper spent months trying to verify the authenticity of the documents, the group says. Because the German authorities in the Commerzbank investigation had paid a whistle-blower for a small amount of information from the law firm, the ICIJ and Zeitung (which says it did not pay for the documents) were able to corroborate some information they were receiving. 
"It started as a trickle of data, and then turned into a torrent," Ryle said. "And before long it was clear that this would be of interest to a worldwide audience."
How have regulators reacted? 
In the U.K., tax authorities have asked the editor of the Guardian newspaper, which collaborated with ICIJ, for access to information suggesting that the father of British Prime Minister David Cameron was linked to one such offshore company. Tax authorities in Australia and New Zealand are also investigating. 
Scandinavia's biggest lender, Nordea Bank AB, has been summoned by Swedish regulators to answer questions about assistance it allegedly provided to wealthy clients to help them evade taxes.
Source: bloomberg